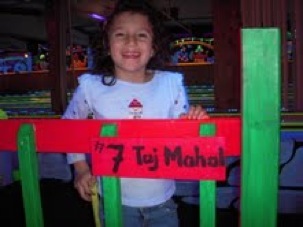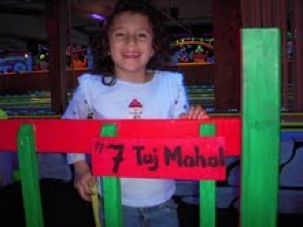 As low as $4.87 for students (Tax Extra) come enjoy our 9 hole Around the World Cosmic Mini Golf and a cost to adults of $5.32 (Tax Extra). We are open every day of the year except for Christmas Day.
That's right, we have a Cosmic Mini Golf course inside our Family Fun Center!!!! Our Indoor Cosmic Mini Golf was custom designed and the Theme is Around The World featuring famous places.
Some of the famous places featured:
Hole #2 The Leaning Tower of Pisa – a freestanding bell tower of the cathedral of the Italian city of Pisa. The tower began leaning to the southeast soon after the onset of construction in 1173 due to a poorly laid foundation. Beware the pizza slice obstacles on this hole.
Hole #4 Big Ben – the nickname for the great bell of the clock in the clock tower of the Palace of Westminster in England. The clock is the world's largest four-faced chiming clock and the third largest free standing clock tower in the world. Go ahead and take a picture with Big Ben, actually go ahead and take lots of pictures as the pictures will be great with all the glow in the dark effects (by all means share your pics on Facebook and be sure to tag ibowl as we love to be appreciated).
Hole #7 Taj Mahal – a white marble mausoleum constructed as a monument. Taj Mahal is located in India and was built by Mughal Emperor Shah Jahan in memory of his favourite wife Mumtaz Mahal. Construction began around 1632 and was completed around 1653. The Taj Mahal attracts from 2-4 million visitors a year. Polluting traffic is not allowed near the complex and tourists must either walk from car parks or catch an electric bus. There are a few shortcuts on this hole, but for fun one shortcut only seems like it could be a shortcut.
Not only is our Indoor Cosmic Mini Golf great for taking pictures but also great for taking videos that can be shared instantly with family and friends on internet video sites Instagram and SnapChat.
TRIPLE PLAY
We are the home of the Triple Play. The "Triple Play" allows one to fully experience the unique ibowl.ca Family Fun Center experience. A "Triple Play" purchase entitles you to 1 game of 5pin bowling, 1 game of 10pin bowling and a round of indoor Mini-Golf at a cost to students/seniors of $15.49 including shoe rental (Tax Extra) and a cost to adults of $17.70 including shoe rental (Tax Extra).