CHRISTMAS SCHOOL BREAK HOURS & SPECIALS:
We will be open at 9.30AM every day of the Christmas School Break from Saturday December 22nd to Sunday January 6th. We will have Early Bird Specials over the Holidays between 9.30AM and 11.00AM of $8.63/person including Shoe Rental plus Hst for 2 games.
Reserve a lane for 2 hours at 10.45PM on New Year's Eve Monday December 31st and receive an extra half hour free at our every day low price for 2 hours of $55.66 per lane plus Shoe Rental and Hst.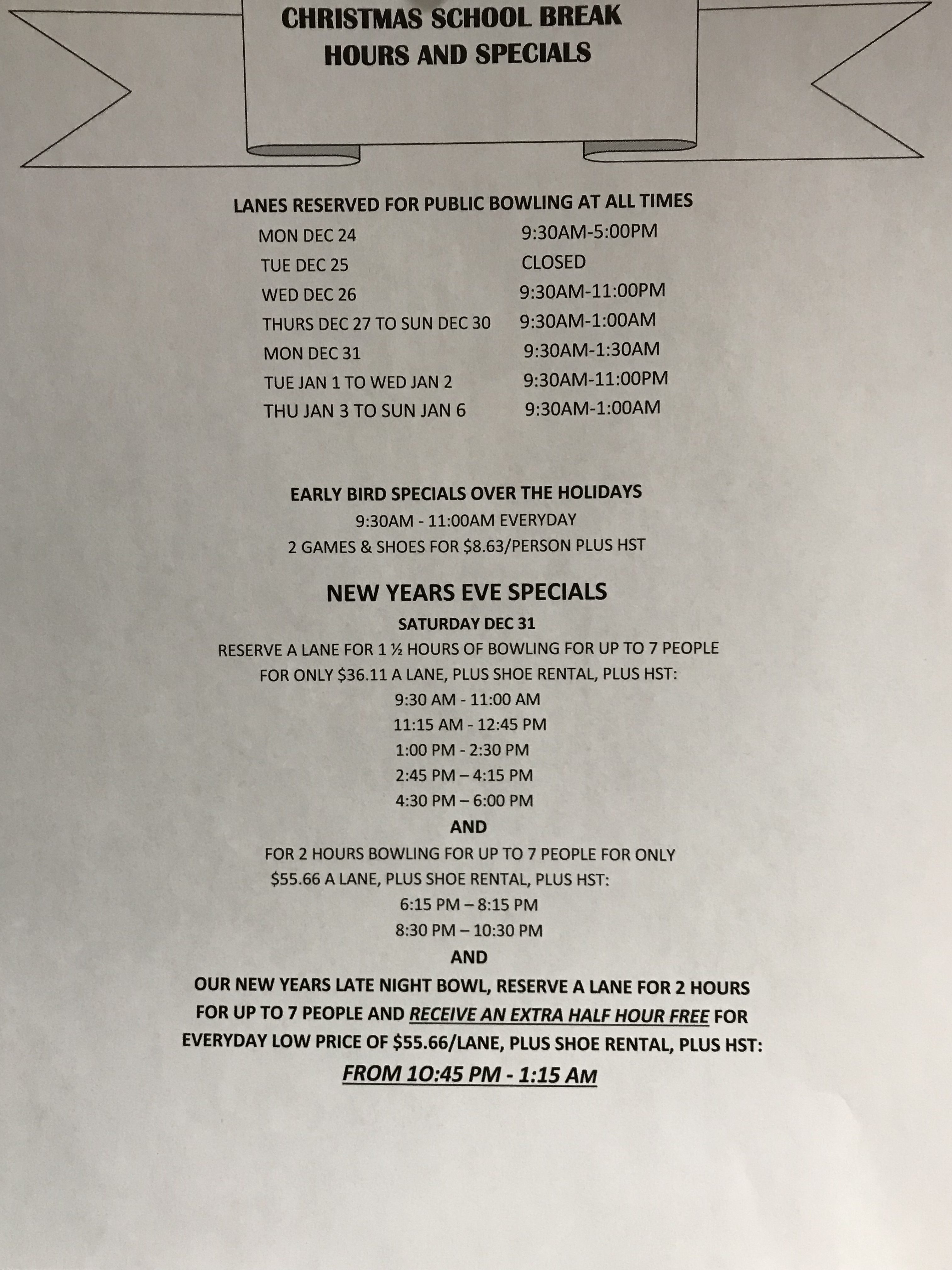 REGULAR HOURS:
Open Monday to Wednesday 11AM to 11PM
Open Thursday to Sunday 11AM to 1AM the next day
Lanes are open for public bowling every day and we are always Cosmic (Premium Experience) Bowling. Always best to call and reserve a lane.

TRIPLE PLAY
We are the home of the Triple Play. The "Triple Play" allows one to fully experience the unique ibowl.ca Family Fun Center experience. A "Triple Play" purchase entitles you to 1 game of 5pin bowling, 1 game of 10pin bowling and a round of indoor Mini-Golf at a cost to students/seniors of $12.08 including shoe rental (Hst Extra) and a cost to adults of $15.44 including shoe rental (Hst Extra).
LUNCH SPECIAL
Free slice of pizza and a non-alcoholic drink with the purchase of a game of bowling and shoes rental from 11AM to 2PM Monday to Friday at a cost to students/seniors of $6.64 including shoe rental (Hst Extra) and cost to adults of $8.27 including shoe rental (HST Extra). Each additional game is $4.47 (Hst Extra) for students/seniors and $4.96 (Hst Extra) for adults. This special is not valid for all Statutory Holidays, March School Break, Christmas School Break and New Year's Eve.
MOVIE TICKET NIGHT WEDNESDAYS
Bring in a used movie ticket stub Wednesdays 6-11pm and bowl 1 game free, shoe rental extra at our amusement place.